Whether it is adding color, pattern, style or texture, there are few easier ways of transforming the ambiance of an interior than wallpaper. The last few years have seen a surge in wallpaper patterns, and all those who shunned it in the 90s and worked super-hard in trying to scrub wallpaper off of their bedroom and living room walls are once again shopping for new patterns! While we will not call it a full-blown revival, wallpaper sure ranks high on the trends chart in 2015. Adding it to the dining room is one of the easiest ways to get in on the wallpaper bandwagon before trying it out in the bedroom or living area.
There are plenty of fun ways that you can add wallpaper to your existing dining room. There is no lack of patterns or colors to choose from, and you can pick one that exactly matches your dining room ambiance. So delve in and find out more about adding wallpaper to the dining room –
1. Enliven the Walls
This is an obvious and easy starting point for every homeowner, as you can simply drape the walls in a wallpaper of your choice. The wallpaper that you pick must not only complement the theme of the room, but should sync with the existing decor and accessories. While cool wallpapers with neutral hues are generally the preferred choice and easier to work with, do not miss out on the opportunity to add color to the dining room with wallpaper. As the inspirations below showcase, it can be a world of delightful fun!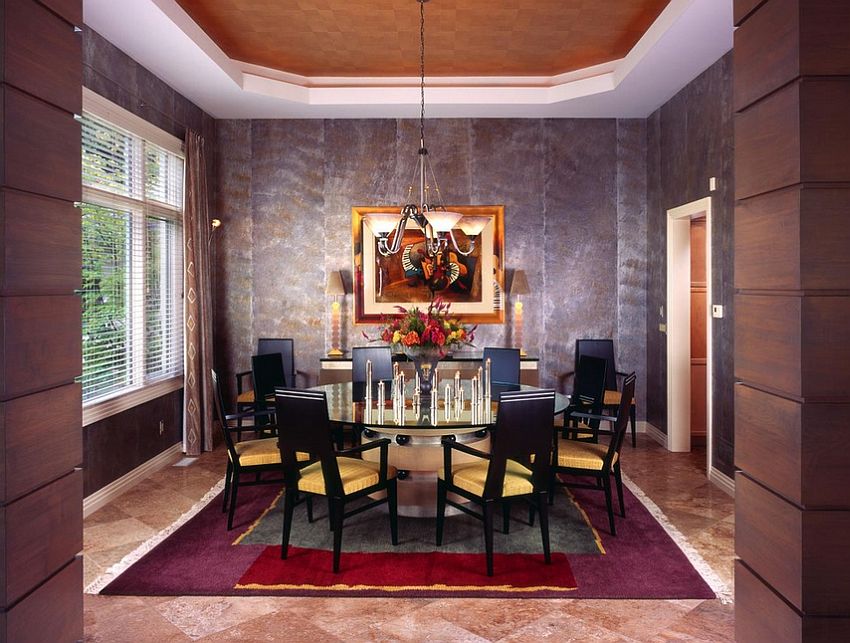 2. Think of Texture
When you start browsing through wallpaper choices, think about things beyond just color and pattern. Maybe what your monotonous, contemporary dining room needs is a bit of texture. Grasscloth wallcoverings or even faux leather wallpapers can get this done with ease and elegance. There are other amazing wallpapers around that can create the visual effect of materials ranging from metal to cork!
3. Geometric Beauty
Retro, midcentury modern, vintage and art deco; the trend these days is to bring back patterns and designs that were considered hot several decades ago! Take advantage of this change in the decorating cycle and use bold wallpaper with fun geometric patterns to add to the vibe of your midcentury or vintage dining room. These ultra-cool designs work beautifully in minimal settings as well.
4. Dress up the Ceiling
There are plenty of times when we are left wondering why homeowners do not pay more attention to the ceiling and the untapped potential that it holds. (Really, do look upwards sometimes and move away from boring white.) Well, now is your chance to add spunk and sizzle to the dining room with an unexpected twist by opting for a wallpapered ceiling. You can still leave the walls as they are and let the bold wallpaper steal the spotlight for a change.
5. Go Quirky!
Maybe you prefer a dining room that is playful, unique and even a touch eccentric with its special design. Styles such as bohemian, shabby chic and eclectic get a great lift when wallpaper that is equally unconventional shapes the backdrop. This approach looks even more engaging in the case of small dining areas in an open plan living space, as it gives the tiny nook a distinct identity and aura of its own. Try this quirky variation this summer and you will be pleasantly surprised!
Read more:
http://www.decoist.com/2015-04-30/dining-room-wallpaper-ideas/
Related Article:
Dining Room Makeover Reveal